Family Dentistry Near You
Family dentistry is often interchangeable with general dentistry since these two terms refer to the same type of oral healthcare.
Patients of every age can visit a family dental professional. They provide multiple services that can preserve, improve, or restore the appearance, functionality, and overall health of your smile. If you're interested in acquiring this type of treatment, please contact our neighborhood dental office today.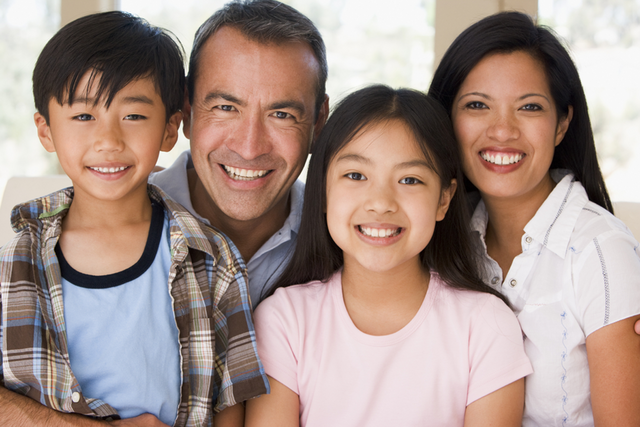 What Can Family Dentistry Address? 
Multiple processes and procedures are available to you as a patient. Alongside their preferences and goals, everyone's smile differs; as a result, family dentists are trained to deal with a wide number of issues and questions and will carefully customize your appointment so that your specific needs are fully met.
With that said, family dentistry entails the following categories outlined below:
Preventative – This emphasizes the daily maintenance of your teeth, gums, and oral structures. Biannual dental checkups, cleanings, x-rays, oral cancer screenings, and fluoride treatment all fall under this category.
Cosmetic – These processes are designed to noticeably enhance the aesthetic appearance of your smile. Services include porcelain veneers, teeth whitening, and dental bonding.
Restorative – A functional smile is essential to remaining healthy. Common examples of treatments that will repair your smile are dental bridges, crowns, implants, and root canal therapy.
Family dentists can also provide children's dental services, such as teaching youngsters about the correct brushing and flossing technique and emergency care when accidents occur. To learn more about any of these treatment avenues, call your dentist right away.
Things to Keep in Mind 
The primary thing to know is that when you receive family dentistry near you, you receive comprehensive but generalized care. If your smile needs more advanced care in order to remain healthy, they will refer you to a specialist. Common situations where this is necessary include:
Wisdom tooth extractions
Orthodontics
Pediatric care
Oral surgery
Periodontal treatment
Contact Blossom Family Dental 
At our community dental office, our team is dedicated to aiding patients on their oral health journeys. Our dentist is here to build a lasting relationship with you and your family and will walk with you from the beginning to the end of your treatment. Your health and happiness are our top priorities. Reach out to us to set up an introductory session; we look forward to working with you soon!