Dental Guards and Appliances in Near You
Providing protection for your smile is important to ensure that it functions properly and stays beautiful. Unfortunately, a lot of people don't give this much thought until an accident happens.
This is where we come in. At Blossom Family Dental, we provide dental guards and appliances that are long-lasting and reliable. If this is something you're interested in acquiring, contact us today.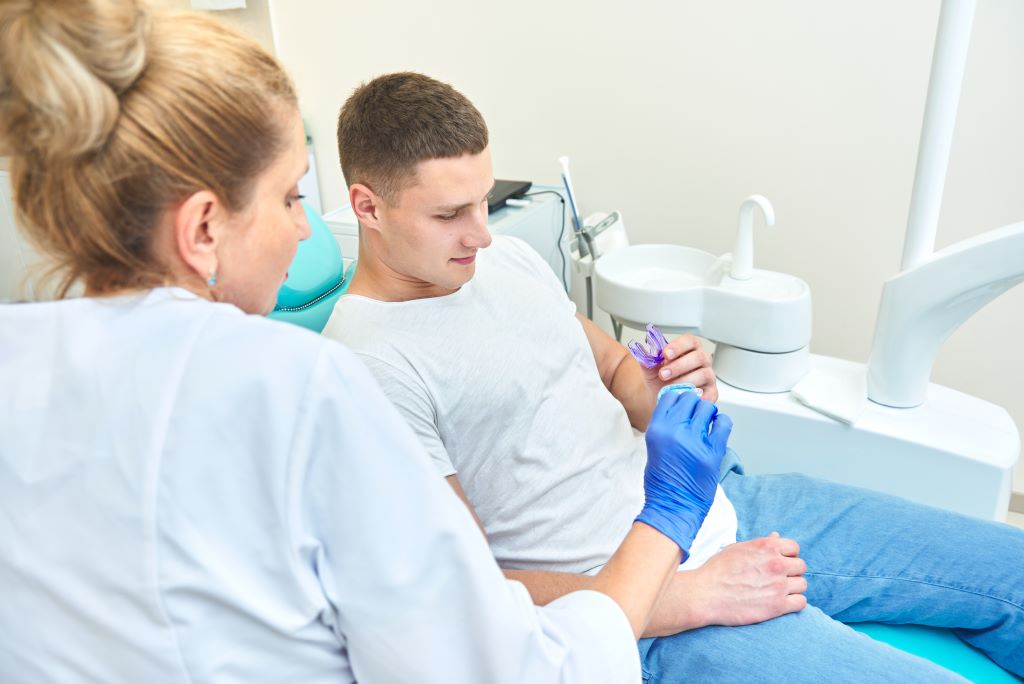 Why Do I Need a Dental Guard?
Our teeth are vulnerable to damage despite being able to withstand daily wear and tear, grinding, and certain impacts. Preserving your smile by acquiring dental guards, whether a sports guard or a night guard to stop bruxism, is a straightforward but very effective method. Furthermore, if you're undergoing orthodontic treatment and have braces, wearing a dental guard will ensure your progress isn't hindered by unnecessary damage.
Dental guards cushion your top and bottom row of teeth from internal and external forces that can chip, crack, or wear down your enamel. The material absorbs these impacts instead of your smile.
You can purchase over-the-counter dental guards, but these are long-lasting and won't be made to fit your oral dimensions. They can wriggle around or even slip out of your mouth when participating in certain activities. Therefore, dentists always recommend getting a customized dental guard. Physical molds are used to create a device that fits you and only you. The high-grade plastic the guard is made from is flexible and won't irritate your tissues.
Other Types of Dental Guards
Alongside sports and night guards, your dentist can suggest several other types of appliances, including:
Snore guards
Orthodontic retainers
TMJ splints
Space maintainers
Bite guards (full or partial)
Do you have questions about this treatment? That's no problem. Your local dentist will be able to address them by walking you through this method from top to bottom.
To determine the most appropriate dental guard for your case, you will need to come in for a one-on-one consultation. Your teeth, gums, and overall oral cavity will be examined, and x-rays will probably be taken to see how your roots and jawbone are faring. Your dentist will also ask you about any pain or discomfort you're experiencing, your preferences, and your goals. All this information allows them to advise the best solution for your smile.
Come Talk to Our Experts
Our dental experts are at your service, ready to join your treatment journey and ensure that it's nothing but smooth. We are committed to patient care; no concern is too small, and no question is too big. Whatever you require, we'll make sure you receive it so you can reap the benefits of high-quality care.
Email or call our local dental office to find out more about dental guards and appliances near you.